About the installation
Both a web site and a multimedia installation at the Whitney Museum, "Point-to-Point" explores the relationship of the brick-and-mortar world to the virtual world of text, "content" and information. The artwork opens in the Whitney Museum's 'Data Dynamics' show on March 22, 2001. During the course of the show Point-to-Point can be experienced both online and in the Whitney Museum.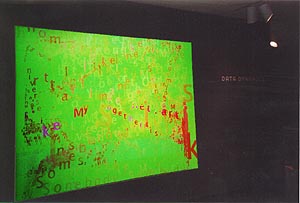 "Point-to-Point" paints the internet as a world of swirling, radiant text, in which people are represented as streams of letters and punctuation. Words and sentences flit across the screen, uprooted from their traditional row by row structure, forming a tenuous, fleeting connection between strangers. The Internet is a space through which we search for meaning, try to communicate with other people or to create connections with far away places. "Point-to-Point" explores our relationship to the internet by creating a connection between the spaces of physical reality and digital data.
"Point-to-Point" was commissioned by the Whitney Museum of American Art. It was funded in part by The Greenwall Foundation, with additional support provided by Thundergulch, the new media arts initiative of the Lower Manhattan Cultural Council.